In past months, a plethora of tech startups have hinted at going public in 2019, but concerns regarding trade, the longest recorded government shutdown in history, and general uncertainty regarding the fate of the U.S. economy and stock market may have hindered these IPOs from being filed in the past months.  Not to mention, recent tech IPOs haven't fared so well, with Snapchat down more than 60% since its IPO in 2017. 
Regardless of any market concerns, 2019 is shaping up to be a great year for IPOs, bringing numerous multi-billion dollar valuations with some of the most anticipated tech companies going public. These companies include ridesharing giants Uber and Lyft, property rental service Airbnb, enterprise collaboration tool Slack, social network Pinterest, and on-demand delivery service Postmates, as well as Paypal co-founder Peter Thiel's secretive data analysis firm, Palantir.
Expectations from analysts have indicated that there is an expectation for a wave of tech IPOs to begin during the second quarter this year. Uber and Lyft, in particular, have displayed strong indications that they will be going public, with Uber expected to have the largest valuation of any IPO to date, while other companies have hinted, but still display uncertainty of their desires to go public.
StreetFins has analyzed seven of the most anticipated potential tech IPOs for this coming year below:
Lyft
Expectations by investors have indicated the potential for the Lyft IPO to launch next month, becoming the first ridesharing IPO and beating Uber in this race. CNN Business reported that Lyft filed plans for an IPO early December confidentially, and with investments led by Fidelity, has reached a valuation as high as more than $15B, and multiple reports have displayed intentions from the company to begin the IPO process in the coming week.  The San Francisco based ride-hailing app, founded in 2007, is seen as the greatest competitor to Uber in the ridesharing market and is valued at $15.1B with $4.91B raised in their funding rounds.
Their competitor, Uber, has been faced with a steady stream of baggage in recent months and years, involving sexual harassment scandals and leadership shakeups, while still being unprofitable, leading some to believe Lyft has an edge in the ridesharing business, despite a lower valuation. Reuters writes that Lyft's revenue in past cumulative quarters has more than doubled, a reported revenue being $909M in the first half of 2018, with their net loss decreasing, still remaining unprofitable.
Uber
Founded in 2009, Uber's intense marketing and association with the ridesharing market has pushed the San Francisco based company past Lyft in revenue and valuation. Uber too reportedly confidentially filed for an IPO in December, and has been seen as participating in a race to go public with their competitor Lyft, yet despite this, in January, Uber CEO Dara Khosrowshahi stated that the company will "do it when we're ready" responding to the concerns of investors of going public. This statement indicated that Uber may not be in a rush to launch an IPO and there is an uncertainty of when this may take place.
Analytics from Goldman Sachs and Morgan Stanley have given Uber a $120B valuation, a greater valuation than GM, Ford, and Fiat combined, bringing up concerns among value investors of an overpriced IPO. Even given this, Uber has seen a net loss of nearly $2B over the past two quarters, while garnering over $11B in net revenue over 2018.
These past years, Uber was faced with a bombshell sexual harassment allegation from one of its employees, prompting an investigation into the company's ethics led by former United States Attorney General Eric Holder, a current partner at legal firm Covington & Burling. Investigations revealed the erratic behavior of former Uber CEO Travis Kalanick, who took an indefinite leave of absence in June of 2017, among other company leaders, prompting Uber to regain public trust. The company has yet to face any other management turmoil since this incident, yet this creates concerns about the management practices of the company going forward.
Palantir
Palantir is a data-analysis firm co-founded by Peter Thiel with top law enforcement and military agencies as clients. The company was rumored to be instrumental in determining the location of terrorist Osama bin Laden leading to his assassination by United States forces. Peter Thiel, the current chairman of the company, has had a significant role in the founding of tech giants Facebook and PayPal. Palantir allows its users to easily translate large quantities of data, which prior to Palantir's conception, required coding abilities. It has also made complex data accessible to the average consumer, and was able to analyze forty years worth of documents in just a few hours, managing to incriminate Bernie Madoff for running the largest Ponzi scheme in United States history. Officers in the Los Angeles Police Department praise Palantir, with one claiming they "support the cops on the streets and the officers doing investigations." In March of 2018, Palantir received an $876M contract, enabling their technology to be used by the United States Department of Defense.
In 2018, Palantir received a valuation by Morgan Stanley at $6B, despite never having turned a profit. Yet as of this past October, their IPO sees a valuation at $41B. Morgan Stanley has earned $60M through funding efforts for Palantir, according to Bloomberg. Such earnings could greatly increase if Morgan Stanley takes control of IPO proceedings for the elusive firm.
Airbnb
Airbnb, founded in 2008 by Brian Chesky, Joe Gebbia, and Nathan Blecharczyk, has gained popularity throughout recent years.  Revenues have soared to $2.6B, and operating income has followed, growing to $450M, both in 2017. According to Crunchbase, Airbnb has raised 13 rounds, totaling to about $4.4B, from Silicon Valley venture capital behemoths like Sequoia Capital and Andreessen Horowitz.  The current valuation is around $31B. According to its latest financial reports, Airbnb has been profitable for the past two years. Additionally, growth seems to be getting larger and larger, as they plan on hitting 500 million total guest arrivals by end of Q1 2019, which would mean 100 million new guest arrivals since September 2018, indicating about a 25% growth in one of their main metrics in just two quarters.  
In May of 2018, Brian Chesky, CEO of Airbnb, announced that Airbnb will be ready for an IPO next year, though he wasn't sure whether it will.  In February of 2018, AirBnB's CFO, Laurence Tosi, who was also a former CFO of The Blackstone Group, left the company, reportedly following a disagreement with Brian Chesky on how to take Airbnb public.  Tosi was credited as being instrumental to getting AirBnB to reach profitability faster than many other private technology companies. AirBnB's CFO position remained vacant until November 2018, when they hired the former CFO of Amazon's worldwide consumer business, Dave Stephenson.  
Airbnb aims to go public in June, according to TechCrunch.  
Slack
Slack, the popular workspace collaboration tool, is looking to take a less traditional route to the public markets.  They are looking directly list their shares on the market as Spotify did in their IPO. A person familiar with the matter said that Slack does not need the publicity nor the cash of an IPO would bring.  Slack is already backed financially, having raised $1.2B from 10 rounds from firms like SoftBank, Accel, and T. Rowe Price, and has made quite a few acquisitions already.  It is currently valued at $7.1B.
Should Slack choose to directly list their shares and completely forego the process of an IPO, it will save millions of dollars in fees.  In a traditional IPO, an investment bank maps out the predicted supply and demand for the stock of the company seeking to go public and then decides the number of shares to be sold and the price per share.  During that process, the investment banks, also known as underwriters, get paid fees by the company issuing shares for the work in projecting demand. Often, investment banks price shares on the lower end so that on the day of the IPO, the price of the stock will rise by a great deal.  The average stock price gain of 2018 IPOs is 13.2%, according to a Harvard report, so investment banks have a history of estimating demand on the lower side.  However, the fees can add up, often costing the company millions of dollars. Slack could forego the investment bank fees by allowing current investors to offer their stakes to the public and have the price be purely based on demand and not an estimation of demand by an investment bank.  Though this process can be cheaper than a traditional IPO, it requires more regulatory oversight.
Slack plans to go public in Q2 this year, though plans may change.  
Pinterest
Pinterest, the social network where people share their ideas and interests using different forms of media, has filed confidentially to go public.  Pinterest, which was launched in 2010, has raised $1.5B across 15 rounds and is currently valued around $12.3B.  Backers include the likes of Bessemer Venture Partners and Ron Conway.  Pinterest has over 250 million monthly active users, and 2018 revenues are expected to be over $700M, up 50% from 2017.
Pinterest has been growing in popularity in recent years.  Nearly the same number of millennials use Pinterest as much as Instagram.  A key part of Pinterest's value comes in the form of how it helps its customers make purchases, as 93% of active pinners say that they use Pinterest to plan purchases and 87% say that they've purchased something because of Pinterest.
Co-founder and CEO of Pinterest Ben Silbermann stated earlier that Pinterest is looking to debut in 2019, with no further details.  
Postmates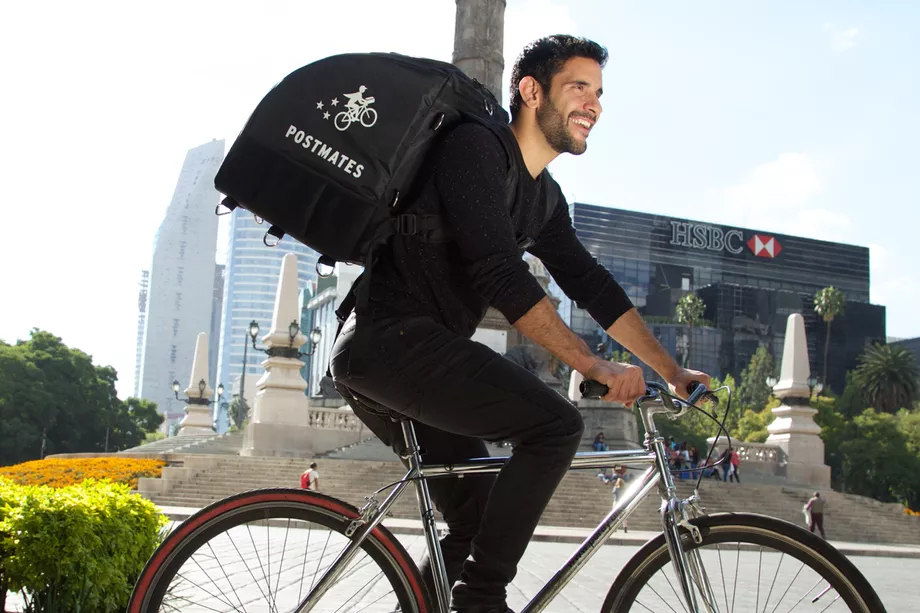 Postmates, the food-delivery pioneer, has confidentially filed for an IPO this year following record growth in 2018.  Postmates, till date, has raised $678M over 11 rounds from firms such as Tiger Global Management, BlackRock, and Peter Thiel's Founders Fund.  Its most recent round valued it at $1.85B. This business has grown popular in recent years, though it remains, so far, unprofitable.  Postmates has chosen JP Morgan and Bank of America as its lead underwriters.
Though Postmates essentially pioneered on-demand food delivery, it faces competition from UberEats and DoorDash, though Postmates's sales grew faster than UberEats' sales in the second half of 2018.  Postmates said it also has an extremely large delivery network, with 240,000 couriers in 550 American cities, and is able to deliver to 70% of US households. In Los Angeles, Postmates is a star, garnering endorsements from the likes of Kylie Jenner and Serena Williams for its speed and convenience.  
The market for on-demand delivery is estimated to grow 630% by 2020, and, currently, GrubHub holds the largest share, but it is waning as Postmates, UberEats, DoorDash, Caviar, and other food delivery platforms grow.  Postmates' market share is solidifying and growing, as it completes close to 5 million deliveries per month.
Postmates makes money through delivery and service fees, commissions from partners, and fees from monthly and annual free-delivery subscriptions, and appeals to consumers through partnering with well-known brands.  The company's portfolio of brands whose products they deliver includes Walmart, Apple, Chipotle, Wendy's, McDonald's, and much more.